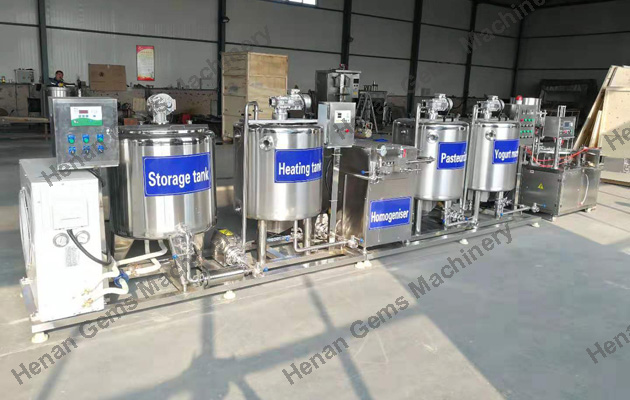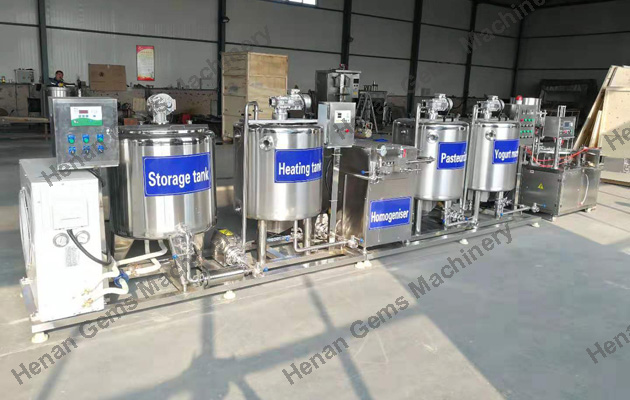 Complete Liquid Milk Yogurt Processing Line Equipments For Dairy Yogurt Making Machine
Material:

SUS304

Capacity:

500L/Batch

Loading Port:

Qingdao Port

Warranty:

12 Months

Quote Form:

FOB, CIF, EXW, CFR
Features
Complete Liquid Milk Yogurt Processing Line Equipments For Dairy Yogurt Making Machine
For this whole line which is combined with the following tanks:
Milk Cooling Storage Tank
The raw milk is stored in a storage tank, and the temperature in the tank is set to 3-6 ° C. The fresh milk passes through a single filter to filter impurities of the fresh milk and finally enters the preheating tank through the milk pump.
Milk Preheating Tank
1. Eliminate most other organisms to increase the shelf life of the product
2. Make the protein have a certain degree of denaturation. This improves the consistency and viscosity of the yogurt and prevents the separation of whey.
Milk Homogenizer
1. Improved the consistency of yogurt
2. Yogurt looks whiter and has a more creamy and richer flavor than non-homogenous yogurt
3. Better distribute stabilizers in the system shapes.
Milk Pasteurizing Tank
Before the fresh milk pasteurization process is started, it is necessary to ensure that the water level of the pasteurizer is reached at the water level mirror. Set the temperature (usually set temperature 85 ° C). Turn on pasteurization heating and stirring. When the milk temperature reaches
85 °C, and the pasteurization will be completed.
Milk Fermentation Tank
Before the fermentation process is started, the temperature of the fermenter is usually set at 43 ° C, the fermentation time is usually 8 hours, the fermentation heating is started, and the fermentation is stirred. After the milk temperature has reached 43 degrees, the corresponding strain is added and the yogurt is fermented. After 8 hours, the yogurt fermentation process will sound an alarm.
Yogurt Filling Machine
We have 2 types yogurt filling machine, one is used for filling yogurt into plastic bottles and the other is used for filling yogurt into cups. For cups, we can customize the cup shape and fill yogurt automatically
Technical Data
| | | | |
| --- | --- | --- | --- |
| No. | Item | Capacity | Size |
| 1 | 1000L Milk Cooling Tank | 1000L/batch | 2600*1200*1450mm |
| 2 | Milk Filter | 3t/h | 750*750*800mm |
| 3 | Preheating Tank | 500L/Batch | 1200*1200*1750mm |
| 4 | Milk Homogenizer | 500L/h | 860*960*1060mm |
| 5 | Milk Pasteurizer | 500L/Batch | 1200*1200*1750mm |
| 6 | Milk Fermentation Tank | 500L/Batch | 1200*1200*1750mm |
| 7 | Yogurt Cup Filling Machine | 800-1300cups/h | 1450*1000*1720mm |
| 8 | CIP Cleaning System | 500L*3 Tanks | 3000*1100*1750mm |